Eighteen counties in Kentucky and Southern Indiana, 81 nonprofit organizations, 254 projects, and 1,568 donors have given more than $719,000 since we launchedpower2give.org/Kentucky! That's what I call a wild success. We did it together, with organizations like Republic Bank, LG&E and KU Energy, Kentucky Arts Council and Louisville Metro Government who matched many donations dollar for dollar.  Many thanks to donors who supported their favorite projects throughout the year. Thank you Kentucky and Southern Indiana for expanding the Arts throughout our region.  You're the BEST!
While we were celebrating the anniversary of power2give.org/Kentucky, Peter Holloway, Producing Artistic Director at StageOne Family Theatre, gave us a call and asked us to come see all the excitement!  Thousands of school children poured into the Kentucky Center to see StageOne's The Best Christmas Pageant Ever and the Louisville Ballet's Brown-FormanNutcracker!  What a holiday treat!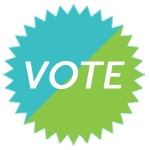 Join me and vote for power2give along with the Arts & Science Council of Charlotte-Mecklenburg in the Innovation Story Contest by ARTSFWD.  All you have to do is CLICK HERE and vote!  Let's tell the world about the success of power2give!
Upcoming Events
Now-December 15 Colors of the Season Holiday Dinner Show, The Galt House
Now-December 20 The Best Christmas Pageant Ever, StageOne Family Theatre
Now-February 4 Wendell Castle: Forms Within Forms, Kentucky Museum of Art and Craft
Now- December 23 A Christmas Carol, Actors Theatre of Louisville
Now- December 23 Brown-Forman Nutcracker, Louisville Ballet 
December 14 A Christmas Festival, Louisville Youth Choir
December 15 Christmas at St. Brigid, Louisville Chorus
December 16 Belles and Beaux with Bells and Bows, Louisville Youth Orchestra
December 16 Handel's Messiah, Louisville Master Chorale
Ongoing Artebella, Louisville Visual Art Association
Like us on FACEBOOK to stay up-to-date on the latest arts news and ticket information. Together through the arts, we really do create a great American city!
Barbara Sexton Smith
President & CEO
Fund for the Arts
502-582-0100